NewsNow: Hydroblasting Content
Hydroblasting is used in excavation jobs to slice through rock like a hot knife cuts butter. The principle is a giant garden hose that aims ultra high pressure water at an obstacle. A walk through the Breckinridge, Colorado river basin shows that entire landscapes can be reworked with H2O.
Eroding Monoliths
A scan of the financial reports of Dow Jones, Reuters, Pearson, and AOL Time-Warner indicates that these monoliths of information are experiencing some erosion in their businesses.
Consider this: Dow Jones, for the period ending December 31, 2002, reported that its operating income before special items was $98.9 million, down 46.1 percent from 2001. This was after cost-cutting and restructuring.
Or this: Pearson plc said in its June 2002 interim report, "At the presentation of Pearson's interim results back in August 1997, we set ourselves the task of delivering double-digit growth in adjusted earnings per share, believing that achievement would double the value of the company in five years. Five years on we haven't met all those goals."
Lastly this: Reuters reported its 2002 earnings before interest, tax, depreciation and amortisation of £506 million in 2002 versus £1,001 million in 2001, a decline of 49 percent.
What's eroding these towering mountains of content? Pearson's and Dow Jones point to advertising revenues. But Overture Information Services (a pay-for-page views business) is advertising-based and continues to grow. Reuters' Tom Glocer points to "the toughest market conditions for decades" and singles out the firm's "our outright software business." At the same time, Microsoft Corp.'s software revenues continues to soar.
Most online users are accustomed to updating a Web page. Few casual users are aware of the profound impact Extensible Markup Language is having on content such as news. We must now consider that the flow of bits from Web services providing streaming data is chewing away at the foundations of traditional news publishing.
With the streams of digital information flowing from Moreover, blogs, and services such as Google's news page, is there room for another news service? Will news be reshaped as the music business has been reshaped?
News "Nozzles"
NewsNow, a next-generation content company, operates from Fulham, an area of London that was also the original home of AOL's European hub. AOL have long since left Fulham but the area may have a winner in NewsNow, a news aggregator and syndicator founded in 1997. NewsNow has emerged as one of the UK's leading news aggregation sites and attracts about seven million page impressions each month. The company, managed by founder Nick Gilbert, chief executive officer, in 1998 began offering tailored feeds to customers on their Web sites.
In sharp relief against the towering content mountains, this 18-person news syndication service is pumping along. Nick Gilbert, a co-founder of NewsNow, said, "We are growing steadily in difficult market conditions, which gives us tremendous confidence for the future. We are one of about twenty independent UK dotcoms that have survived the crash without being sold, merging or going bust."
NewsNow, like its competitor Moreover, has extended into what is called a media monitoring service. It is not a news company that fields correspondents. Instead the firm aggregates content from other sources and presents it in a way that is more malleable, more easily fitted to the fast-changing needs of its clients than the information produced by the Dow Joneses or Reuters of the world. NewsNow allows a client to "watch" for information about a particular topic and receive customized information flows. The NewsNow stream can be used in an organization's portal or used on a single desktop. Instead of five-figure license fees, NewsNow offers its product at a fraction of the news monolith's fees.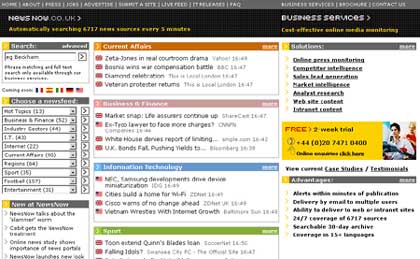 There are some sharp distinctions between NewsNow's operation and that of a company like Factiva, which offers aggregation and an increasingly wide range of consulting services. NewsNow has developed technology that tracks over 6,000 source Web sites in about 600 categories. The categories include hot topics, business, industry sectors, information technology, and others. Each of these categories is further subdivided. The Internet, for example, contains clusters of stories about 22 subtopics. Examples include broadband, digital TV, and hacking, among 19 others. The content for the NewsNow service comes from over 84 countries. NewsNow provides information in 18 languages. The company tracks most leading online broadsheets and tabloid newspapers plus selected "underground" or lesser-known online news sites that are essentially ignored by the monoliths and many researchers.
Mr. Gilbert said, "We believe that the internet has rearranged the business of news monitoring in favour of smaller, leaner players. In many ways we are a 'poor man's Reuters' in that we cannot offer all they can but where we do compete directly we offer more for less. The only threat to the business is the trend toward paid-for subscription news sites. So far the impact has been negligible and in some cases we enter into cooperative deals with publishers taking this course. We have found that 99 per cent of publishers welcome being listed on our site because it has a positive effect on traffic. They also welcome the fact that we never seek to enter into syndication revenue deals with them because we do not believe the market is going that way."
With teens gravitating to audio and video, NewsNow takes a surprisingly conservative stance. Mr. Gilbert said, "We do not believe there is a mass market demand for anything other than text at present although we are reviewing streaming technology. We are aggressively adding to the languages we cover."
Demographics
But changing behaviours are also operating in favour of NewsNow, Moreover, Google News and the thousands of other real-time news services available via the Internet as a quick visit to daypop.com or findnews.org are just two of hundreds of sites offering one-click access to news.
Internet researchers from Pew Internet & American Life to NUA Internet Surveys report that news is one of the more popular Internet services. It is not just the 20-somethings leading the charge. Almost half of the over 60 set who are online get news electronically. No comment about stock market mavens or sports bettors is necessary who, regardless of age, find mobile phones connected to sports scores particularly useful.
A January 2003 study conducted for MSNBC revealed The survey of 351 users found that most adult workers now spend more time reading news and information online than they do consuming traditional media such as television, radio, magazines, and newspapers.
About 35 per cent of the respondents said they used the Internet for news during the day. More surprising was that 37 per cent said they use the Internet for national news compared to 35 per cent using traditional media.
Nick Gilbert, NewsNow CEO, says this trend is evident from the use of the NewsNow's news portal. He noted, "Much of our traffic is during the working day. It seems that for the majority of people accessing news, online is very important. Companies must consider providing quick access to news to reduce the time wasted surfing for information.".
NewsNow's Secret Sauce
The company's secret sauce is, said Mr. Gilbert, "A recipe as closely guarded as that for Coca Cola or Kentucky Fried Chicken. Our secret sauce is a well-kept secret and kept in my head. I can say that one clue is fundamentally Linux open source. We provide the software widgets necessary for delivery of custom feeds directly to Intranets and Extranets. We also have developed a fast email alert tool that allows content to be directed to an audience of any size. We have worked hard to avoid the overhead associated with some of the programming approaches that clog networks and require extensive amounts of bandwidth."
He continued, "We have developed our code over the last five or six years, and we continue to refine it. Our programming that fuels the site and newswires is to our knowledge unique and proprietary. I think our technology is one key reason why we are the most widely used news aggregation portal in the UK and have a rising high brand awareness in the U.S. and elsewhere."
The NewsNow site is, in a sense, an online news search engine. Companies can track multiple words on sites across the world and have their results delivered within fifteen minutes of their publication on the Internet. A bit of poking around the site reveals that the NewsNow search tool supports Boolean queries and can monitor up to 500 keywords for each client. NewsNow system allows unlimited changes to the standing queries that are used to create the customized streams of content.
NewsNow offers a client log in to permit secure access to personalised services. New news-oriented sites can use a submit-a-site option so our editors can consider adding a source.
Marketing
NewsNow's success is a one-two punch. The firm has been able to create buzz by getting its users to tell others about the service. In addition, NewsNow's executives have been able to land some blue-chip accounts. These include IBM, Balfour Beatty, Direct Line and Oracle. The NewsNow customers use the information to monitor news relevant to their company, their clients, competitors and internal needs.
Noted Mr. Gilbert, "NewsNow serves two purposes and one or the other hooks customers. First, we offer a free news aggregation service at the same time as being a provider of paid-for online news monitoring services. The free service is complementary and a showcase for the paying services. As a player in the news monitoring space we naturally have many competitors and imitators. This is not a space in which you can be unique. You compete on the way you offer your services and the ability to support the customer. Our marketing comes down to a very robust and easy-to-use free Web service and our customers selling other firms on our services."
He added, "We have added FAQs (Frequently Asked Questions) to explain online news monitoring. We have tried to be forthcoming with the benefits and drawbacks of the NewsNow approach. We try to operate in a straight forward manner because we have learned that many customers are somewhat fatigued by the effort required to understand what some of the larger firms' offer and what they charge."
Wrap Up
NewsNow's financials are good and, said, Mr. Gilbert, "doing quite nicely. We are well funded and broke even last quarter for the first time. We are open to offers concerning further funding but we are also confident that will continue to grow organically for the foreseeable future. A public listing is one possible goal, but we wouldn't ignore an offer from one of the larger publishing concerns."
With so many sources of free and for-fee news, can NewsNow survive? From the vantage point of a content monolith, upstarts such as NewsNow, Moreover, and Google are of little consequence. Software--not content processes in place for years, decades, or centuries--do most of the work. The giants of the news business stand proud like the Niligari Peaks in Nepal. The world of Google news is remote, hard to see, its effects impossible to see until the landslide begins and then gains pace as the forces accelerate the transformation. Then, in suddenly, a mountain falls down.
Stephen E. Arnold
President, Arnold Information Technology
Postal Box 320
Harrod's Creek, Kentucky 40027
Voice: 502 228 1966
E mail: sa@arnoldit.com
Web site: www.arnoldit.com
February 3, 2003
---
[ Top ] [ AIT Home ] [ Beargrass ] [ Site Map ]