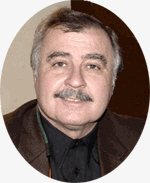 Technology from Harrod's Creek
Scoring Year 2000: Bronze Swords 0, Cannoneers 3
Note: this article was written in March 2001 and appeared in the June 2001 "Information World Review" news magazine.
Girafa Accelerates Web Visualization
Girafa's company tag line is, "If it caught your eye, then catch it later." Girafa's engineers believe that many people recall the appearance of a particular Web site more easily than a complex Web address. Founded in 1999, Girafa provides Information Visualization services to individual users, Web developers, and Web hosting companies. The company has recently opened an office in the United States.
A click to the Girafa Web site reveals that the company has a keen sense of design. Said Shirli Ran, co-founder and chief operating officer, "Several of our engineers are avid skydivers. They insist that their best insights form as they hurtle toward the earth at 180 miles per hour in a head on dive."
Girafa's free Internet Explorer add in Girafa can display the results of a Google, Fast Search and Retrieval, or any other query system with the Girafa visualizations. A number of companies provide somewhat similar services. Among the best-known companies are Twirlix, Searchshots, and CCR, Inc. (Korea). On the surface each of these companies offers a similar product.
Girafa's approach is different and may well be a harbinger of next-generation Internet system architecture.
Girafa's system allows web users to instantaneously view a thumbnail image of a web site simply by pointing the mouse over the associated link. The user need not leave the originating site in order to view the link, nor even does he need to wait for the requested Web page to load. The thumbnail image appears when it is streamed from Girafa's cache servers. The color thumbnail allows a user to identify quickly relevant links and redundant entries to unwanted Web sites or dead links.
Girafa's has patents pending for its visualization technology. The system architecture is quite robust and addresses the performance problems of competing Web page rendering visualization tools. More importantly, Girafa makes use of peer-to-peer engineering principles to speed up the performance of an image-intensive system.
Girafa's back end operation supports two basic functions. First, Web page capture/compression and feeding/updating the cache servers. Girafa spiders the Web, builds renderings of Web pages, and stores them in the Girafa cache server. These servers are Exodus' New York City facilities. Second, customers licensing Girafa for use in an Intranet also have a Girafa cache server. Girafa's cache servers automatically update client Girafa servers. The pre-built Web page renderings enhance the performance of the visualization system when an Intranet user visualizes a link from the Internet and the corporate Intranet. Both pages display rapidly, since rendering is handled by the servers.
In addition, Girafa makes use of what the company calls "Image Capture Stations." These are clusters of workstations that capture Web pages and convert them to thumbnail JPEGs. Scan and capture policies and priorities are defined by Girafa according to preset rules. Girafa licensees can define custom rules to meet their needs. For example, a client offering a regional Web directory may wish that region related image links be updated twice each day. Other links are updated on different schedules.
Girafa "Image Server" technology automatically feed the customers' cache servers on a continuous basis, according to the policies set by the customer. Cache Servers are located at the customer's data center. These servers feed the end users with the thumbnail images in real time, as well as communicate with Girafa's Image servers for receiving updated images according to preset rules.
Girafa provides three free software applications to showcase their technology. The first is an add-in for Internet Explorer. After downloading and installing the Girafa software, Girafa visualization can be used immediately.
The add-in features a drop down menu that includes thumbnails of popular Web sites for travel, sports, software, and news plus five other. The Web browser add-in allows the user to view any page and see a thumbnails of that page. Using the menus in the Girafa panel, the user can add the Web page to a pre-defined Girafa category or create a new category and add the Web page's thumbnail.
The browser add in is worth a look. One function in particular is useful for competitive intelligence work. View the eBay home page. (See the illustration with this column.) Highlight the list of links to other eBay services. Then click the Girafa "visualize" button. The software generates thumbnails of each eBay page. The display allows one to recognize instantly interesting services such as eBay's new Premium site and dead links.
Girafa offers two other toolkits. One is a software suite that allows a Web developer to use Girafa visualization on Web pages. The other is a faster-loading version of Girafa. When a user runs a query, the list of links is returned. Girafa adds a unique floating window. When a cursor is placed over a link, the page of that link is displayed in the Girafa floating window.
Girafa is one of the first visualization services to exploit peer-to-peer architectures. (Peer-to-peer technology seems likely to emerge as a useful engineering tool, not just poster child for unauthorized sharing of ripped MP3 files.) The engineering of the Girafa rendering system combines few-to-many peer-to-peer technology plus multi-point caching to increase the speed of their visualization system. Many visualization systems create attractive and useful displays, but the time required to paint the representation causes many users to click away to a speedier loading page. Not all Girafa visualizations are available in the Image Server, so some pages can be slower to render. Overall, Girafa offers a noticeable and substantial speed improvement over its competitors.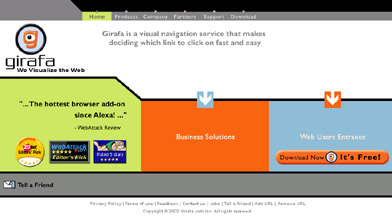 Girafa offers free trials and no charge services on its Web site. Pricing for enterprise licenses is based on the particular requirements of each organization.
Israel Offices:
Girafa.com, Ltd.
Twin Tower One
33 Jabotinsky Road, Suite 915
Ramat Gan, 52511, Israel
Tel: +972-3-7515530
Fax: +972-3-7515532
Other companies mentioned:
---
[ Top ] [ AIT Home ] [ Beargrass ] [ Site Map ]