Context Aware Planning
ArnoldIT has found that most organizations practice random acts of social media. Social media appears to be easy, cheap, and low risk. Why not send messages and post?
Today "looking busy" may not translate to a pay off for the person or the employer.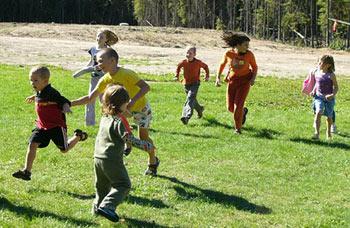 The social media approach in most organizations is organized in a manner similar to a game of tag played by children. Individuals do their own thing in a frantic attempt to win the game.
Most professionals are overwhelmed with information, pressure, and urgent tasks needing to be completed "yesterday." Why not retreat into the seemingly familiar world of generating a tweet about a new product or posting a picture on Instagram or Pinterest?
Most organizations with which we work have some type of social media activity. The best managed organizations are now taking a close look at:
The cost of social media services and the time staff spend on such services as Facebook, Google Plus, LinkedIn, and Twitter, among others
The benefit to the organization of these social media efforts
The integration and orchestration of social media efforts with other marketing and sales activities.
We have learned that, despite the overwhelming use of social technology, most organizations lack context-aware social media plans. The plans which are available when a plan actually exists is usually tactical. Public relations agencies, consultants, and social media specialists focus on sending so many messages. The orchestration of social media with other marketing activities does not get significant attention.
The result is that in many organizations, senior management has a vague sense of unease about the money spent and the benefit from the social media investment. Most organizations have moved from a desire to make use of social media to a more strategic approach to channels, messaging, and methods.
ArnoldIT takes an operational approach to developing social media strategies. Our method moves through five specific steps, using the techniques which ArnoldIT has refined in hundreds of engagements.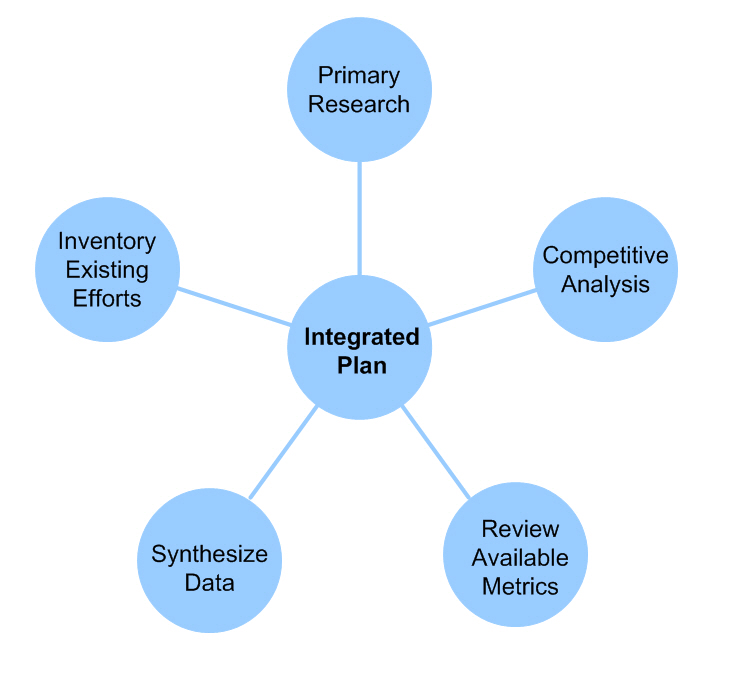 The ArnoldIT approach.
Inventory Existing Efforts
ArnoldIT uses a combination of online research and traditional information gathering to get examples of social media activities. With the efforts tallied, ArnoldIT is able to match the tasks with the "metrics" review described below. Most of the organizations with which we work do not have a "command and control" overview of what is going on. Even in small companies, numerous vendors and staff may be using social media channels and not communicating the who, what, why, and where to others in the organization.
Primary Research
The ArnoldIT team reviews existing market data, information the client has assembled about its social media activities, and interviews key players. Examples of interview subjects range from suppliers, to customers, to professionals in the firm. We have found that most organizations do not take an integrated approach to primary research. Often when research data or metrics are available, staff do not have time or the expertise to work through the available information.
Competitive Analysis
On the surface, it seems that every organization needs a social media channel. This is a false assumptions. Some organizations can benefit from social media, however, the specific tactics used have to be tailored to the organization. Organizations trying to reach certain markets may benefit from a focused social media program. Other organizations may operate in a regulate environment, so social media may mean monitoring certain channels and then responding in more traditional ways to opportunities and threats.
Review Available Metrics
ArnoldIT has trained analysts who can make sense of tabular data or eye-popping visualizations with minimal content. We also examine invoices and perform financial reviews. We pull together direct and indirect costs and put the social media cost data in one place. In our experience, many social media experts avoid if at all possible, a cost-centric analysis like the one ArnoldIT conducts.
Integrated Plan
An ArnoldIT strategic social media plan focuses on orchestration and integration of existing social media efforts. In addition, the ArnoldIT approach:
Identifies gaps and duplicative efforts. Specific remediation actions are described and scheduled
Pulls together messages. The ArnoldIT social semantics approach helps ensure that concepts, entities, and products are positioned in an optimal manner to deliver the results the organization wishes to achieve
Provides a foundation for the organization to add specific social media actions and integrate those actions with other sales and marketing activities
Summarizes present costs and provides cost boundaries for new social media activities identified in the course of the research and plan preparation.
If you want to move from your present approach to social media messaging, contact ArnoldIT. We deliver integrated and orchestrated social media plans, calendars of activities, and specific procedures to help ensure that maximum value is derived from social media efforts.
Random acts of social media are expensive and usually ineffective. A planned approach works.
ArnoldIT's social links
Context-aware planning