Lookeen
An Interview with Peter Oehler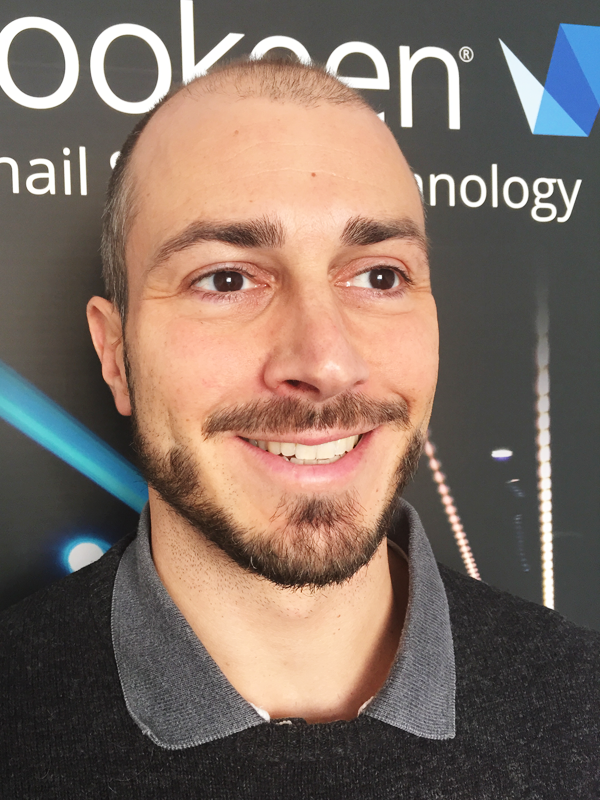 Desktop search is a problem for many computer users. Storage devices make it possible for entry-level desktops to house a terabyte or more of data. Notebook computers' storage has ballooned as well. Every Mac and Windows computer ships with brute-force basic search systems. With fiddling, it is possible to locate an errant file, but finding the information needle in a large haystack can be time consuming and frustrating.
Vendors and shareware developers have been trying to solve this problem for years. However, the desktop search category has been stagnant for the last three years. After Dassault Systèmes acquired Exalead, its desktop search software disappeared as a commercial product. ISYS Search Software offered a quite useful desktop search solution. After the company was acquired by Lexmark, the desktop product also faded. Google stepped away from its desktop search product almost five years ago.
There are a handful of search systems offering desktop versions. Examples include X1, a product now positioned as an eDiscovery tool. X1's quirky user interface can be a stumbling block for some users. dtSearch offers a desktop search system, and it has a wide following among Microsoft developers. Sluggish indexing hampers this otherwise useful product. Copernic, based on ageing technology developed by the founder of Coveo, also provides an alternative for a user looking for an alternative to the ever-changing Windows search function. Gaviri, a small company in New Jersey, provides a desktop search system that is highly effective at making email search a snap. The company has a low profile and appears to have opted for word-of-mouth advertising.
Also, there are a number of freeware and shareware desktop search systems. SOWsoft, a company in Russia, moved Effective File Search from a for-fee to a freeware model. The system works well, but it is often stressed when result sets are in the thousands. Mo-Search is useful, but the system requires the user to watch the size of the corpus, or the system hangs. A quick search on Bing.com reveals that there are 33 million results for the query "desktop search shareware." The number is astounding.
Nevertheless, a gap exists in desktop search despite the plethora of options. Desktop search has been, until recently, a problem with mostly incomplete solutions.
I learned that a company in Germany had developed a Lucene-based desktop search system. Axonic opened for business in 2003, and it has a thriving business providing information retrieval and document processing solutions for the banking and insurance sectors. After checking my vendor files, the company appears to be one of the first, if not the first, to use the Lucene open source technology in a desktop search product.
In general, I am skeptical about the user friendliness of open source software. Before installing and testing the system, I conjured images of wonky interfaces, clunky administrative screens, and the specter of having to troubleshoot indexing systems that crash and burn.
I had a positive experience with Lookeen, Axonic's desktop search system. Furthermore, I am pleased to report that Lookeen exhibited little or no latency as I queried my terabyte-plus test corpus. An added bonus was that Lookeen seemed significantly quicker in its indexing, and its response time was as fast or faster than the X1 system. Also, the interface did not require me to figure out what odd ball icons and idiosyncratic menu choices stood for. I plugged in test queries, and the results appeared. Lookeen made it easy to locate the five Ramanathan Guha content tucked in my collection of Google patent documents in a variety of file formats.
After this positive experience, I tracked down Peter Oehler, COO of Axonic and one of the people behind their flagship product Lookeen. I spoke with Mr. Oehler on March 10, 2015. The full text of the interview appears below.
Why desktop search? It is a software niche that has suffered more than its share of ups and downs over the last few years.
One of our earlier products was Chilibase, an Outlook integrated contact manager. We learned from our customers that the native Outlook search function was just okay. Chilibase customer feedback showed that users enjoyed the improved contact management aspect of the software, but what surprised us was that they identified our Outlook search function as the more superior feature, and what one customer described as "the most loved".
When did you offer the Outlook snap in?
We released Chilibase to the market in 2007 as an Outlook add-in. Shortly thereafter, we learned from our customers that our search system should index the entire contents of the user's computer, not just the Outlook files.
Why were you earning rave reviews? Microsoft continuously informs me that Windows search is the best thing since sliced bread.
Lookeen is easy to use and displays results with little or no latency. Also, the Lookeen can index content as it becomes available. I think a combination of factors worked together, and we listened to our customers. Lookeen is a desktop search solution that works, and the user can enter query terms and locate information. We have eliminated the user interface speed bumps that many developers put in front of the user.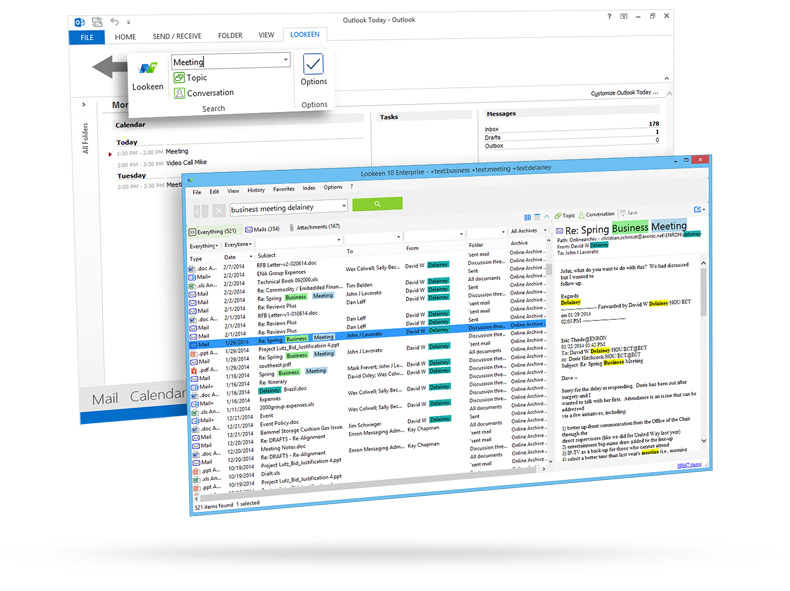 Based on your feedback from your customers, what's the problem Lookeen solves that competitive systems don't?
The number one issue we're trying to address is one that's been plaguing knowledge workers for decades – finding information in a fast, efficient and reliable manner. It's been proven time and time again that time spent searching for information within enterprises is costing companies thousands of dollars a year. Some may say that this is old news, but the fact remains that the rapid increase information creation and communication means that this headache isn't going away anytime soon. Lookeen aims to address this problem through simplified search, and further time saving features actionable through a streamlined unified interface.
In my view, the frustration employees develop when they cannot locate information is another major factor in search dissatisfaction. Would you agree?
Yes, I agree. And what we have learned in our years of experience with Outlook and Exchange Servers is that Outlook is one of the most used tools in corporations. Employees and contractors keep Outlook open and working, right up until the end of the work day.
The ability fully to integrate Lookeen into Outlook (without it affecting any of the normal Outlook functions) is a huge benefit for those who depend on Outlook every day. Lookeen is the only desktop search product on the market that can be fully integrated into such a widely used program straight out of the box, with no additional customization or purchases necessary.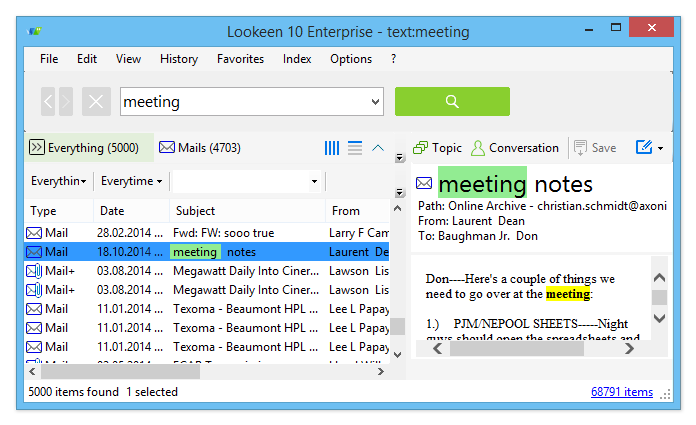 Our customers tell us that Lookeen has no learning curve. Once installed, users can use Lookeen seamlessly within a familiar program, which is a real benefit. Our approach avoids the barriers to adoption some software puts in front of a busy user. We have designed a system that increases the likelihood that employees fully embrace an enterprise search system.
What magnet pulled you into the information retrieval sector?
I think the challenge of desktop search snagged us about three, maybe four, years ago. At Axonic, we have been the leading Outlook and Exchange Server search technology in Europe for six or seven years. We remain in continuous contact with our customers, and we work hard to listen and understand their requests.
Although Lookeen could already index and search desktop files from the Outlook add-in, the creation of a standalone tool would enable those who don't use Outlook to use the powerful search capabilities that Lookeen offers.
Martin (CEO and founder of Axonic) and I concluded that it made sense to us to bring our expertise in Outlook and Exchange Server search to the desktop search market.
Were there any experiences from your commercial work that helped clarify your approach to desktop search.
Axonic has done significant work in OCR.
What's OCR?
Oh, sorry. Optical character recognition. We also have a robust business in communication analysis and intelligence.
The reaction customers and users have had to the various content processing software we've brought to market has only reinforced our belief in Lookeen for users who do not use Outlook. Knowing that you are fulfilling a serious need, and receiving such positive feedback about your solution really makes it easy to enjoy what we are doing.
Axonic appears to have been investing in desktop search with considerable intent. What are the general areas of your development activities?
I think that the direction our research goes is decided mostly by our customers and their suggestions. This customer-centric approach to development, and attention to feedback received from longtime users has always sparked our innovations by bringing fresh outsider perspectives to issues we may never have even considered.
One way in which we've reacted to such feedback is by making Lookeen more intuitive to use and simpler to understand by implementing a more user-friendly GUI. We want users to be able to start using Lookeen as soon as it's installed, without having to struggle with a steep learning curve. We've also focused on improving the indexing speed without affecting the performance of the users' computer; we're proud to have created an indexing system that is incredibly light on system resources.
Our goal with Lookeen is to develop a streamlined and easy to use search technology, which fulfils the needs of our users.
Many vendors argue that images and video are "the way information retrieval will work going forward?" Lookeen is focused on text. Does this focus help or hinder your service's growth?
Let me tell you a little story here. On the way to CeBIT (the world's largest IT convention) three or four years ago, I met and spent some time talking to higher management from one of the world's leading steel and manufacturing corporations. It turned out that in a company of over 150,000 employees globally, the standard operating system was still Windows 2000! They showed me their laptops, which really did have Windows 2000 running on them, believe it or not.
The point I'm trying to make here, although this is quite an extreme example, is that large companies, those that tend to spend a lot of money on enterprise solutions and software, are very slow to adapt to technical innovations. This may be due to security issues, or difficulty in implementing solutions on such a large scale. In these companies, text is still what drives their business – emails, worksheets, text documents, PDF files, PowerPoint presentations, and reports.
Yes, images and video are booming, and the ease with which these files can be created and shared nowadays is incredible, but most big business is still driven by text, and we believe it will remain that way for many years to come.
What are the principal innovations that Lookeen embodies?
That is a somewhat difficult question. There are, in my opinion, many important innovations in Lookeen desktop search.
I would suggest that our core innovation is to implement the newest versions of Apache Lucene in our technology to create a strong desktop search application. Next my colleagues have worked quite diligently to embed these search functionalities into Outlook.
We've utilized Lucene's extensive query syntax to enable users to use familiar Google-like Boolean search, as well as wildcard, proximity, and keyword matching. The introduction of more search strings and filter features enable users to narrow down searches in an easy and intuitive way, and more proficient searchers can access the best of Lucene's query syntax.
Why did you select Lucene as the underlying platform?
Lucene is a very good, widely used open source search system. Many of the innovations we've developed on top of the Lucene engine stem directly from our extensive experience with Outlook. For example, the Lookeen context menu allows a user to open, reply to, forward, move and summarize emails and topics, all from within Lookeen.
What is your firm's secret sauce special ingredient?
I think our secret ingredient is our mastery of Microsoft methods in general and Microsoft Outlook in particular. Some of my customers' information technology professionals describe Outlook as a beast.
Also, Lucene is a beast within the Microsoft environment. Microsoft doesn't make it easy to work with Outlook without causing problems or affecting performance. Outlook is the lifeblood of most professionals - the most important tool. If it stops working, you stop working. The art of our product is how we tackle the complex code hiding under the surface of Outlook and combine it with Lucene to create a deceptively smooth and simple search solution.
We have many years of experience fighting the beasts, which makes copying our product difficult. The amount of technical expertise we've gathered working with these two technologies over the years is not easily replicated.
Do you have an innovation that emerged from a customer suggestion?
Yes, and it is one of my favorite new Lookeen innovations. A user now has the ability to edit and save documents from within the preview window. This new feature streamlines the workflow for users and makes on-the-fly editing quick and easy.
Why do your customers choose Axonic and Lookeen?
This is a question my colleagues and I discuss frequently. We know that our customers learn very rapidly that in our enterprise solution, the Lookeen Server pieces together terabytes of diverse data to build one locally hosted central index.
This central index reduces system load, and saves processor and memory resources on each workstation running the Lookeen Enterprise Edition client by managing the indexing process on a separate server.
A user can see with his or her first query that one search interface delivers the content in one single results list.
How complex is it to deploy Lookeen in a company, a company which often has an information technology department quite wary of search systems?
Based on customer feedback, implementing Lookeen as an enterprise wide solution is extremely simple. That lack of a complex install is quite important, according to our customers.
Installations are unattended and we have an easy to follow road map (Group Policy) for simple roll out and administration. Maximum security of sensitive corporate data is ensured by embedding the native Windows Active Directory, native hosting with SSL and internal encryption. Following these user rights also means that different users are given access to different results, depending on their level of access.
What about virtualization support?
Lookeen is also compatible with the virtual desktop infrastructure. Companies or government agencies using Citrix, VMware or Terminal Server solutions can benefit from exactly the same strong search capabilities of a standard desktop system.
And when there is a problem?
We pride ourselves on working closely with the customer to ensure that we can respond to important feedback and provide the best support possible. Our support staff respond extremely quickly, and are able to provide tailored and flexible support through email, telephone or remote sessions via TeamViewer.
Can you give me your take on indexing throughput? As I said, Lookeen was snappier than dtSearch which prides itself on its indexing speed.
Lookeen starts indexing as soon as it's installed. The initial indexing will typically take anywhere between 1 and 10 hours, sometimes 20, depending of course on the size of the document pool and how many workspaces are connected.
After the initial indexing is complete, the latency of indexing updates is almost 0. Lookeen indexes as soon as an element is changed and saved, using real time indexing. The standard settings also perform a refresh of the index every few hours to double check that the index is clean and up to date.
For a single user desktop search solution, Lookeen has no problems indexing the desktop hard drive and any number of external drives that the user chooses to add. There is no cap on the volume of data indexed in single user licenses. Indexing is also unlimited on an enterprise scale, and we don't know the document capacity of the enterprise system because we've never reached it.
Can you share with me a new feature you will roll out in 2015?
I don't like to say too much about the future. But I think our next steps for 2015 are to implement new connectors to content management systems like SharePoint so that Lookeen customers will have a unified federated search of other data pools.
There seems to be a popular perception that the world will be doing computing via iPad devices and mobile phones. My concern is that serious computing infrastructures are needed and that users are "cut off" from access to more robust systems? How does your firm see the computing world over the next 12 to 18 months?
You're right, there are some serious drawbacks to computing via mobile devices, and due to the need for higher security and more advanced computing systems, I don't see the whole workforce moving to mobile within such a short period of time.
Mobile computing has gained some wins, recently with Britain's government mandating the transition to VDI in Parliament by pushing most information technology efforts to their Digital Marketplace app store. However, as I described in my Windows 2000 story, you'd be surprised at just how slowly some larger corporations react to advances in tech.
I doubt that many of these companies are considering cloud options yet. If or when they do, the drive will be for hybrid and privately hosted and secure cloud services, rather than the consumer driven publicly available ones like Google Drive or Box.
Any thoughts about timing?
I feel that it will be another three to five years before mobile devices are truly integrated into larger workspaces. Lookeen can of course connect to such hybrid and private cloud services in most cases, and in this way we are prepared for the future.
Put on your wizard hat. What are the three most significant technologies that you see affecting your content processing system? How will your company respond?
First and foremost the emergence of employees bringing their own devices to the work setting. There will be increased dependence on advancements in VDI. We are cooperating with Citrix and VMware this year to get 'Citrix Ready' and 'VMware Ready' certifications. Clear and effective solutions like ours to some of the technology issues VDI has experienced in the past have tipped the scales and made migration to VDI a much more viable option.
What about the cloud?
Of course. Cloud computing also plays a significant role in the "bring your own devices" trend. But in light of the recent security scandals plaguing cloud hosting services, our aim is to work with only the most secure technologies available. Issues with latency and stress on bandwidth also mean that several significant process and organizational changes will need to be completed before company-wide cloud uptake is viable.
Also I would mention that migration to mobile wouldn't be complete without an easy to use application solution. Two years ago we created an iPhone and Android app so that customers could search their Lookeen index data from their mobiles from a secure app with two-step verification.
We think that our approach was the first time all of your desktop data was searchable and available on a mobile device. We are working on improving it in the next few months and will re-release it this year.
Where does a reader get more information about your firm?
www.lookeen.com has all the information you'll need, or if you'd like more in depth details please send an email to communications@lookeen.com with your questions.
ArnoldIT Comment
The gap in desktop search functionality is filled with the Axonic Lookeen product. The system is stable, fluid, and free of the indexing latency demons that haunt many of the commercial and shareware solutions. Unlike the built in search functionality in operating systems, Lookeen keeps the needs of the user front and center. Lookeen makes it possible to interact with items in a result list without having to jump from operation to operation to perform a simple task like forwarding an item to a colleague.
The migration of Lookeen from Outlook to the Windows user who wants to index and access content on his or her computer is a logical one. The decision to use Lucene as the foundation for the search system has allowed Lookeen to apply its Outlook and Windows expertise to problems that other search systems do not resolve.
Lookeen is worth investigating. Lookeen may be the desktop search system that can provide a solution to the millions of Windows users who struggle to find email, documents, and PowerPoint decks.
Stephen E. Arnold, March 17, 2015