Tesuji: A New Search System
Lucene, Rome, and Budapest: A New Search Blend
Tesuji, a search system based on open source technology, informed ArnoldIT.com of the first North American adoption of its technology. The Project Gutenberg splash screen with the Anacleto identifier is shown in the screenshot below: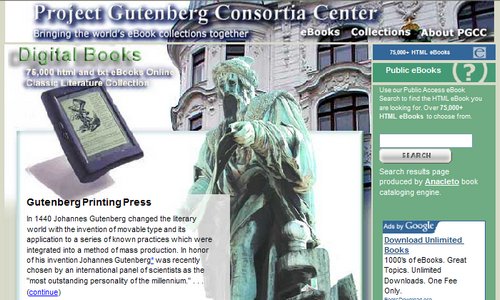 Where You Can Test the System
Initially Project Gutenberg will deploy Tesuji's technology across: three sites:
In the next few weeks the system – dubbed Anacleto – will be available across Project Gutenberg's Web sites.
The test system illustrates the default Tesuji results page. Note that the system extracts snippets where it finds a string match. Instead of displaying a single KWIC (key work in context) output, Tesuji identifies the three most relevant portions of a result and displays these items. These are introduced by ellipses (...).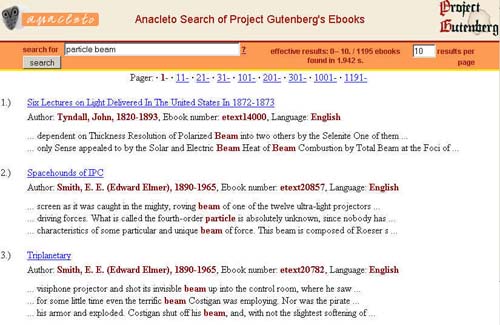 The system displays the title, bibliographic information, and ebook identification numbers. The fields can be customized to meet the requirements of the licensee. The Tesuji system permits a wide range of customization using widely-used tools in the open source community.
Company Background
Tesuji, founded in Rome, Italy in May 2005, has developed a search system that bundles Lucene with additional functions developed by Tesuji's technical office in Budapest, Hungary. The company's goal is to create flexible, multilingual open source applications first of all for digital libraries and archives.
In addition to professional training in informatics, the Tesuji team includes technologists in medicine, natural sciences, and the humanities.
ArnoldIT Comment
The interest in search and retrieval continues to increase. Tesuji joins Copper Eye, Exalead, Mondosoft, and SAP as European sources of search-and-retrieval technology. What's interesting about Tesuji is that the Lucene "engine" provided the basic functionality for the Tesuji system.
Tesuji offers the solution at a very competitive price. For example, a commercial deployment, including professional services and basic customization, will typically be less than $25,000. Tesuji will provide a custom price quotation. Discounts for educational and non-profit organizations apply. According to a company spokesperson, "We want to make our product affordable, so we prepare a price quote that considers the customer's technical expertise, the support required, and custom-features that may be required. So don't lock in that every installation will cost $20,000. Some may cost less, and, of course, some may cost more. We want to work with our customers, their needs, and their budgets."
We believe that the sky-rocketing cost for some of the search system available from publicly-traded companies offering search solutions will contribute to growing interest in Lucene and other open source search solutions. One major publishing company conducted a six -month test of Lucene in order to determine how the technology could be used in new initiatives at the company. One developer of rich text processing systems uses the Lucene technology as the backbone of the system's standard key word search. We believe that solutions bundling Lucene with enhancements and technical support will put bottom-up pressure on some search vendors. With search a "standard" function in solutions from IBM, Microsoft, and Oracle, search vendors "caught in the middle" will be forced to alter their present marketing approach. In the meantime, companies like Tesuji offer a viable way to deliver customized search-and-retrieval without the baggage associated with some better-known search solutions.
For More Information
If you would like additional information about Tesuji, please, contact info@arnoldit.com. Please, put "Tesuji" in the subject line. ArnoldIT.com is delighted to provide interface services between Tesuji's team and those in North America.
If you can't reach us via email, please, fax us at 502 228 0548.
Thank you,
Stephen E. Arnold